We, at Invision Community, love nothing more after a relaxing day writing PHP code, making commits in git and fighting with jQuery to indulge in a little therapeutic "me time".
Given that we've all chosen to work in a nerdy industry (nerds are cool now, we checked) it's no surprise that our down time is spent on nerdy pursuits.
Here's how our team spent their allotted and begrudgingly given free time.
Ryan (Developer who loves of loud noises)
I'm an audio nerd. I go out of my way to hand pick each individual component whenever I'm building a an audio system. My computer, for example, currently has 4 satellite speakers (two Bose, two DCM models which are no longer in production - what is a shame, they are better than any I've ever had), and a sub-woofer (Bose). My living room system is my pride and joy - everything currently runs through a Sony 7.1 channel surround sound system, with a Polk Audio center channel, two Kenwood JL series tower speakers (before JL Audio was it's own thing - each contain a 1.5" tweeter, 5" Midrange, and 12" Subwoofer), two side-surround satellites that need replacing, and will soon have two rear-surround Bose satellites. Each system has specifically been fine-tuned and equalized to my specification.
(Editor: I'd be happy with a HomePod)
The same applies to my guitar amps - I've spent years fine-tuning my amps to perfection, and constantly adjust and tweak various settings to get different sounds.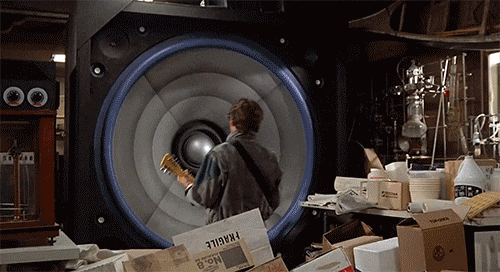 Still not loud enough, we checked
Jennifer (Designer who loves board games)
As everyone likely knows I do a lot of pretty nerdy things, from cosplaying to video games to play by post roleplaying (collaborative writing) to collecting nerdy-shirts and playing board games but I think one of my more nerdy things would be that I collect socks and intentionally mismatch them (aka I'm Bi-sockual). I collect socks of all shapes and sizes to have for any occasion including socks with capes, leg warmers and more. I have a pretty nerdy collection including a ton of super hero socks, some Power Puff girls and more.
(Editor: Socks with capes. What a time to be alive)
Daniel (Developer who loves amusing English words)
It all started several years ago as a present.. I fall in love with this hobby and got some nice trees from my ex-wife. The collection grew and grew.
That's my "poor mans" bonsai collection.. I once trashed a 1000€ plant, then I sold all other which were worth more then 500€ except one and now I just have these left, but it's enought to keep me busy... and to not cause any sadness if something happens to them...Now i really enjoy trying to create my own stuff instead of taking care of bought stuff.
(Editor: Daniel is hands down the most interesting person I've ever met)
Brandon (Developer who loves movies)
I haven't done one in a while, but I like to have movie marathons sometimes. For instance, I'll plan to sit down one day and do nothing but watch Star Wars movies (or Harry Potter, or LOTR or whatever) all day in order. You then have to make the ever important decision of putting the prequels first, or after the originals, but otherwise it tends to be a fun experience watching the continuity from one distinct movie to the next (or, alternatively, looking for broken continuity). When I do this, we tend to eat popcorn, milkshakes and candy for lunch and dinner. Most of my family cannot sit still that long and will just bounce in and out during the marathon.
(Editor: I'm in, when do you want me to pop over?)
Spongebob lives under the sea, we checked
Marc S (Tech who loves things that crash)
I guess other than coding, the nerdiest thing I do is watch Formula 1 racing. Whilst this doesn't seem that nerdy, I do go a little overboard with it (as my wife reminds me regularly). This should give you a bit of an idea.
At present we are approaching pre season testing. For those not familiar with formula 1, this is a testing phase before the new season, for teams to test their new cars. This means that the new cars are just being shown to the world for the first time. I will watch for these to see them as soon as they come out, then will take a look at what new parts I can see on the car in comparison to last year. Today for example saw the first glimpse of Mercedes, and at 3pm Ferrari will show off their new car online.
In addition to that, I've been looking at the stats from last year, along with the know changes this year in engines. I have my own analysis of who I think will be the winners and losers, through the changes from last season in drivers, engine suppliers, and even paddock staff. 
Testing starts on the cars on Monday in barcelona. Whilst this is not on TV, I will be keeping myself updated with the latest events on there. My daily routine whilst testing is on consists of.
Testing live stream running throughout the day during testing
Teds notebook in the evening - An show which analyses the days testing
F1 show - Another show which analyses each days testing
Autosport review - Article online with analysis
Sky news site - Usually some good analysis on there
BBC Sport - Again, some good analysis and different points of view
Motorsport.com - Pretty good website for analysis
And of course the formula 1 website itself.
Boring to many (Editor: yep), but I guess everyone has to have a hobby. For me its formula 1 analysis. Would love to have a go in one, but to do so it hugely expensive! (Editor: given your history with crashing things, you'd never get insurance)
John Woo directed this clip, we checked
Andy (Developer who loves to follow instructions)
Following a recent project we worked on for LEGO, I rediscovered a love for the brick with the Saturn V. Since then I've also started a nice little collection of cars including the incredibly geeky 2704 piece Porsche 911 GT3 RS with functional PDK gearbox and the VW campervan. My family bought me a few more sets for Christmas and I'm toying (no pun intended (Editor: Puns are my thing, it's the only job I have left)) with building a city with the larger modular sets. I'd say that was fairly geeky but I really enjoy the downtime of sitting down and building. I'm not terribly creative so following a set of instructions and seeing things come together appeals to me more than free building.
Right, that's enough of that, everyone back to work!
How do you spend your spare time? Let us know below!
Edited by Matt