Innovate
Reward and empower your members.
Boost engagement and nudge your community with achievements.
Badges
Reward your members with manually awarded badges
These are exclusive, one-off badges rewarded to individuals on a case-by-case basis for their exceptional contribution to the community.
Additionally, create an arsenal of pre-defined badges a member automatically earns after completing specific actions like commenting for the first time, visiting for 30 days or receiving Reactions.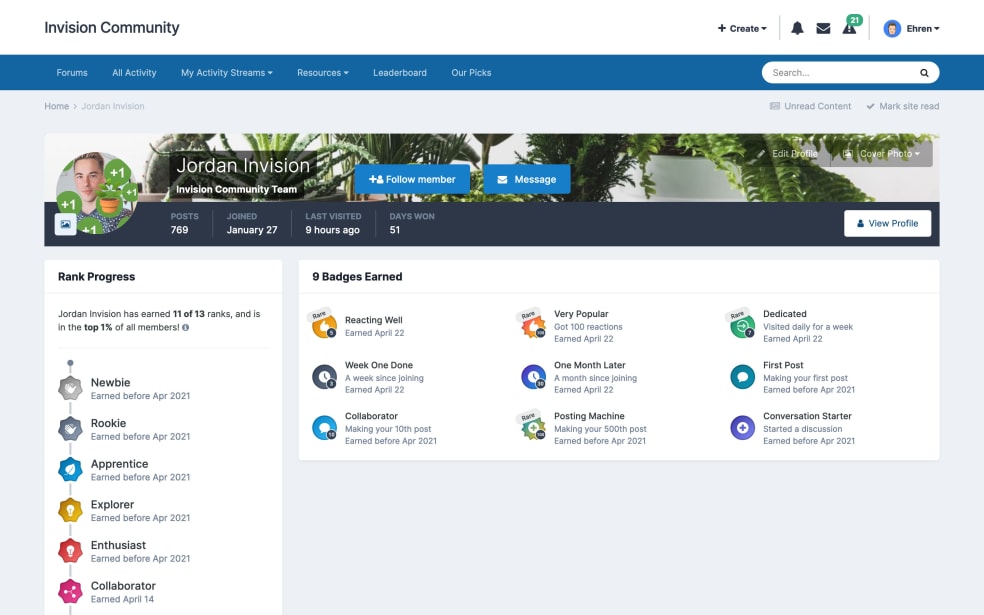 Award and earn badges by contributing. The possibilties are endless.
Followed

A member is followed by 10 members.

Content item

A member posted 20 topics.

Best answer

A member answered/solved 30 questions.

Comments

A member commented 40 times.
Points
Our Achievements Points system keeps a running tally of points. Members may earn points in a multitude of ways.
Member joins a club

Reaction is given

New poll is created

User follows a content item

Review is posted

Member logs in for the first time that day

New club is created

Content item/comment is promoted or featured

Comment/reply is posted

User follows a forum, blog, gallery, category etc

User votes on a poll

User is followed

New content item is posted

Post is marked as best answer

Badges
Actionable Rules
Specific Rules decide what actions earn badges automatically or manually. When this action happens, then this subsequent action happens.
For example:
20 visits badge

A member receives a badge for visiting your community 20 times.

Most helpful member

Reward a superstar member for their contibutions.

Moderator Badges

Manually award badges to individual members for their outstanding achievements.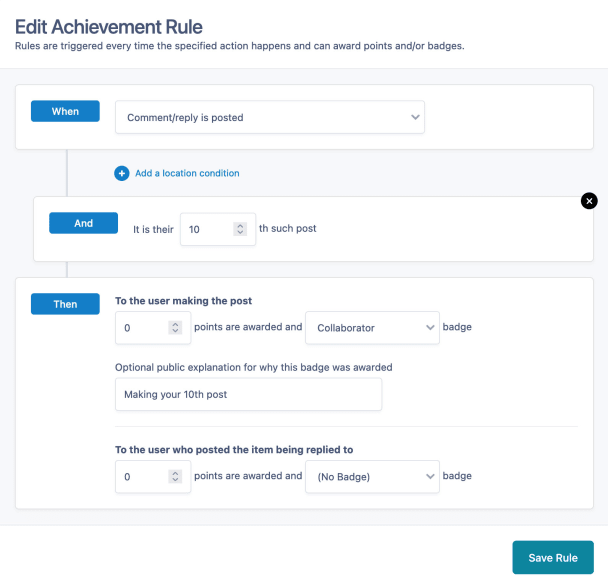 Sharing is caring
Ranks
A members' perceived value based on the accumulation of points. The higher a members' Rank, the greater their influence.
Points

Define a member's Rank by the amount of points they've earned.

Badges

Rank-specific badges are prominently displayed in a member's profile.

Automate

When members reach a specified points threshold, they'll be automatically ushered into the next Rank.
Reactions
Community Reputation
Members react to other members' topics and comments using our Reactions feature.
For example:
Positive and negative Reactions

Determine how many +1 or -1 Reaction points a member receives. The more engaging and high quality the content is, the more positive Reaction points they'll earn. On the flip side, the community can adversely react to a comment by issuing a -1 point.

Custom Reactions

Add your own custom Reactions outside of the default scope, like a peace sign or a gold star.

Leaderboard

Members with the most Reactions earn what's called a Reputation score. They'll show up in the community's Leaderboard.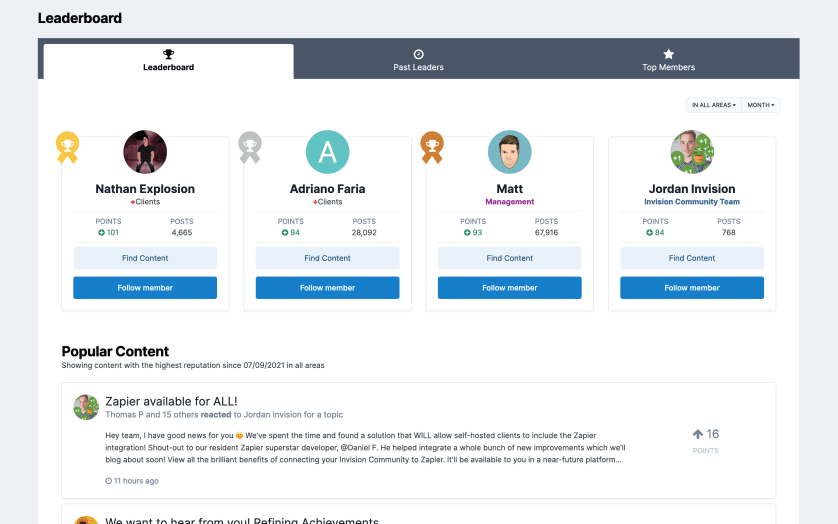 #Winning
Reap the rewards of increased engagement.
30-day free trial

No commitments