Services
Single Sign-On (SSO).
Sky rocket member registrations by reducing friction with one-click sign-in options, or authorize log-ins with your existing authentication system.
Social SSO
Sign in with Facebook, Twitter, Gmail and more

Within 30 seconds, your members can register and login using their social media handles.

Removes the traditional registration barrier

Members experience a seamless transition between platforms with their pre-existing login.

Accelerates community growth

We remove the barriers so your company can dive head first into community building.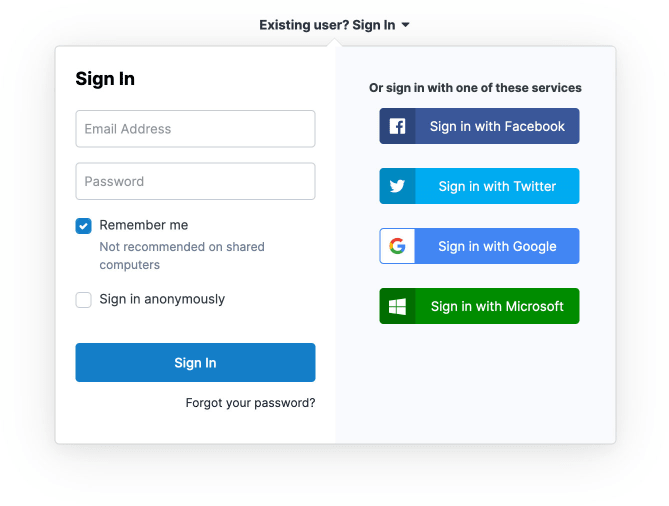 Traditional SSO
Our SSO development service helps you reduce onboarding friction and boost participation.
Tight Integration

Integrate your existing user authentication systems

Increase Adoption

Onboard users automatically with a single account

Improve Security

All of your existing security policies can be honored and eliminates unauthorized access.
Platforms we work with
Hundreds of our customers utilize SSO integration between dozens of authentification systems. Here are some of the platforms and approaches our development team has experience with:
SAML
oAuth2
OpenID
InfusionSoft
Wordpress
CAS
JWT
Cookie-based
SOAP
Drupal Bakery
Auth0
SSO isn't 'one size fits all'
Every organization is different. Our SSO development service is designed to build a custom solution that is right for you based on your particular aims and requirements.
Tight integration with existing systems
The process is entirely transparent to users. They manage their global account through your current system; their community preferences remain accessible in our user control panel.
Our SSO integration also honors user roles/groups, giving users community permissions based on their existing system permissions. Many of our customers use this feature to provide paying customers a higher level of community access.
Pricing
SSO development services are included with our Corporate and Enterprise plans.
For other plans, pricing for custom SSO development starts at $850.
Get in touch with us to discuss your SSO needs - we'd be happy to provide a quote.