Features
Forums
Members connect, engage and unite in one centralized place.
Traditional view

Grid view

Fluid view
Display your forums using our legacy format.
Add images for a visually rich display.
Replace hierarchical forum views with a sleek view that collates topics from across a selection of forums.
Reactions
React to members' comments with custom emojis.
Activity Streams
Customize your browsing experience that's unique to you. Sort by unread, author, time period, tags, follows and more.
Messenger
Send private messages to individual or multiple members.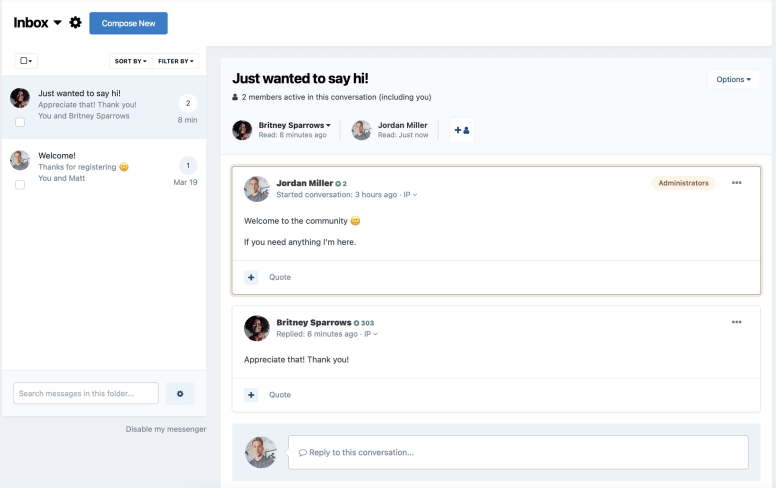 Tags
Categorize content so it's easily discoverable and searchable.
Profiles
Members' profiles display their avatar, header cover and latest activity.
Highlighted posts
VIP members and/or moderators can stand out with a unique look to their replies.
Question & Answer Forums
Enable users to upvote the best questions and highlight the best reply to give better visibility.
But wait... there's more!
Recommended Posts

Shine a light on curated content.

Hot topics

Topics that receive a lot of activity can be automatically marked as 'hot'.

WYSIWYG Editor

Utilize the Internet's most powerful type tool.

Permissions and Private Forums

You decide what Forums members and guests can or can't access.

Follow Forums and Topics

Get notified as soon as new topics or replies are posted in areas which you're interested in.

Mod Cpanel

Easily moderate content on your site using the Moderation Queue.
Ditch social media.
Build a world for your customers to create meaningful connections.
30-day free trial

No commitments