Integration
Integrate powerful enhancements.
Connect industry leading apps for a premium user experience.
30-day free trial

No commitments
Automate with Zapier
Don't leave organic growth on the table
Create automated workflows between Invision Community and over 3,000 other apps, including Google Documents, MailChimp, Facebook and Twitter. This has the potential to elevate your community (and bottom line).
Triggers

A "trigger" takes place when there's a specified signal in your community. For instance, a member registering or a topic being posted. A trigger can be sent to Zapier to then run actions in other apps.

Actions

An "action" is similar to a "trigger" in that there's movement, but it happens by setting up an action in Zapier first which then tells your community to perform X action.

Self-integrated

The "self-integrated" option allows community owners to connect a trigger to an action from within their community.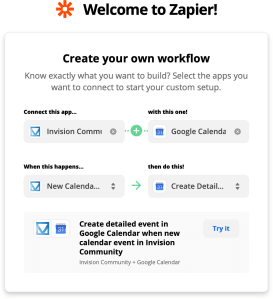 Zapier
Example integrations
Mailing lists

When a member registers, automatically add their email to a Mailchimp list.

Social media

When a moderator posts a topic in a news forum, automatically share it on Facebook, Twitter and other social platforms.

Messaging

When a member posts something that requires moderator approval, automatically send a message to a Slack channel for your moderators.

Calendar

When you add an event in a Google Calendar, automatically create a Calendar Event in your community.

Projects

When you create a task in Trello, automatically add a record to a Pages Database in your community.

Feedback

When you receive an email to a feedback email address, automatically create a topic in your community in a forum for moderators.
Integration
REST API
A full REST API is included to enable third-party data posting/fetching to and from the community from authorized applications. Since it's integrated with our oAuth2 functionality, endpoints can return data within the context of specific members; the possibilities are endless.
Integration
More community enhancements
Spam defense

Stop spammers in their tracks by remotely assessing their threat level and taking automated action.

Facebook Pixel

Maximize advertising revenue on Facebook.

GoogleMaps & MapBox

Displays a user's geolocation (with their permission).

Pixabay

Over 1 million stock photo options.

Giphy

Animate member's posts with an updated GIF library.

EasyPost

Direct API access to shipping and logistics.

Third-party

Niche items made by our Community developers.
You will be assimilated
Integrate powerful apps to automate important functions
30-day free trial

No commitments