Features
Personalize the experience.
Each member is unique. Their experience should be, too.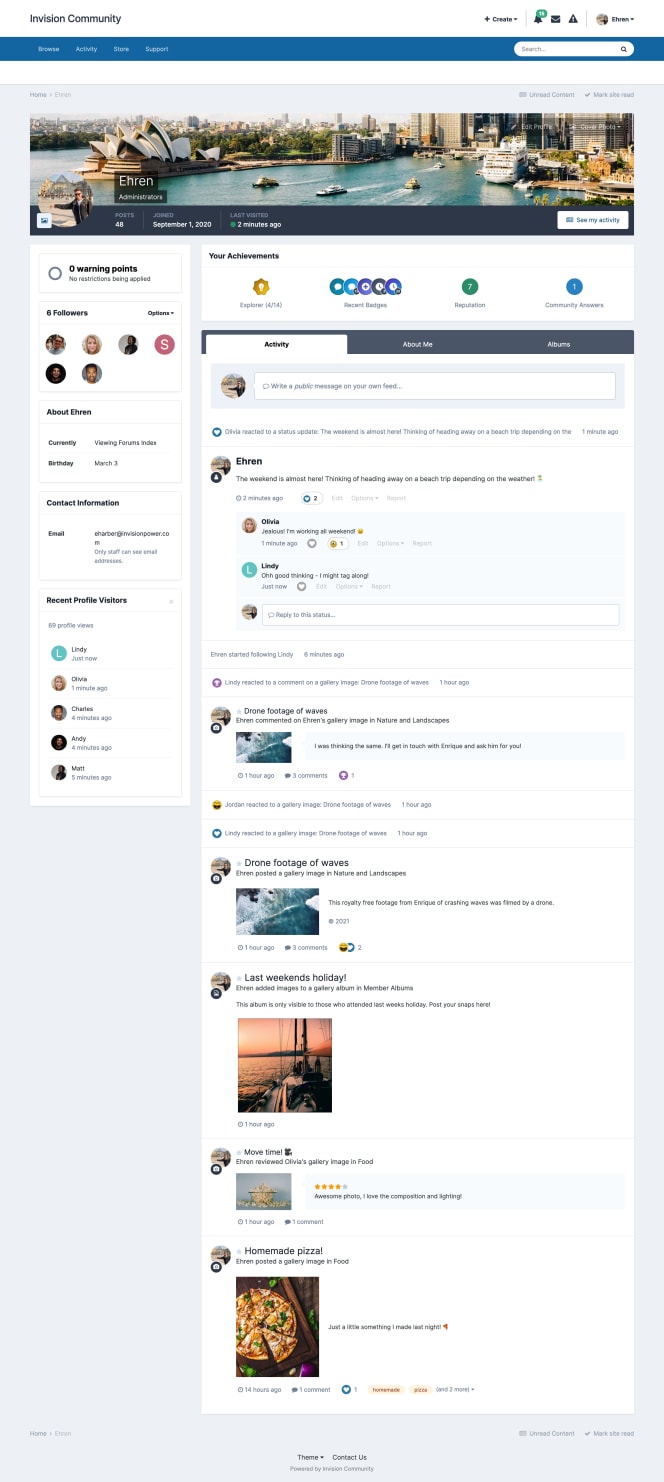 Personalized community surfing
Activity streams
Consume content you care about with your own individual activity streams. Each stream automatically populates a unique and updated series of content for the member, providing a curated, efficient and seamless experience throughout each visit.
All activity stream

Shows latest activity across the community.

My activity stream

Displays activity based on pre-set selections the user makes.

Unread content stream

A member's very own "in case you missed it" stream in which content they haven't yet seen is populated in an easy-to-read list.
Traditional view

Grid view

Fluid view
Display your forums using our legacy format.
Add images for a visually rich display.
Replace hierarchical forum views with a sleek view that collates topics from across a selection of forums.
Member Profiles
Upload a profile picture add a cover photo as well as edit custom fields setup by the staff by visiting your profile.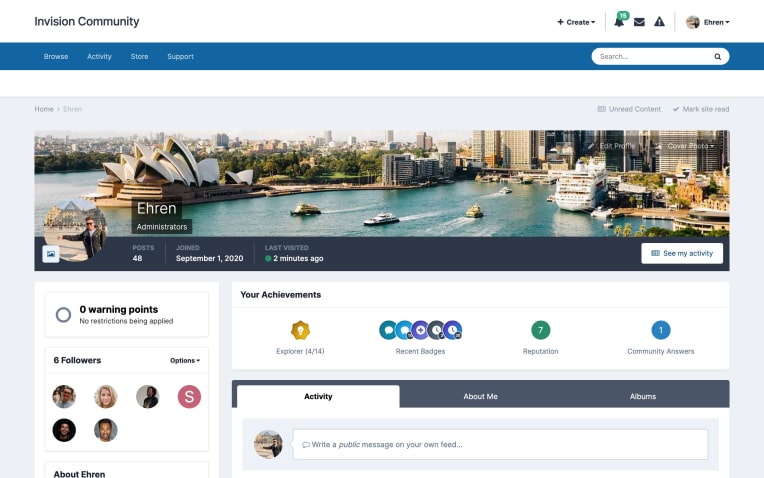 Notifications
Under Account Settings, you can adjust your notification settings to suit on your preferences.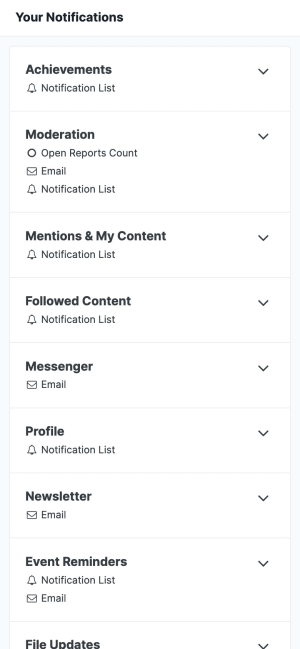 Ignore Users
Do you love your community but not this one user? Ignoring the content of other users on the site can easily be done at the click of a button. You can choose to read specific posts from ignored members if you're curious.
Stay in the know
Members of a community can subscribe to any default or custom activity stream (minus the All Activity Stream) and receive either daily or weekly email notifications with a roundup of content they may have missed.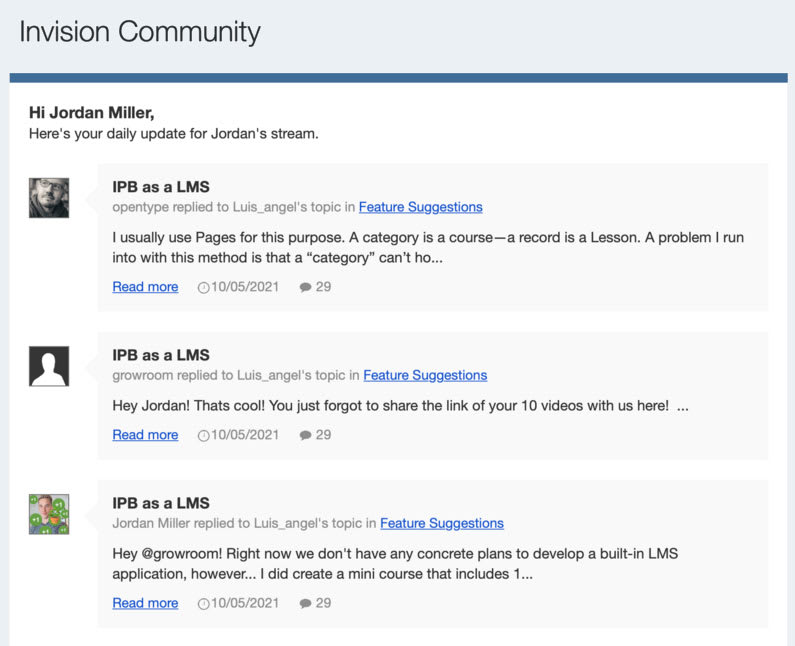 Follow Users
Alternatively, the Follow feature is a great way to be notified, via the notification system or by email, when your closest friends post new content.
Your community, your experience
Utilize these additional tools to create an unique browsing experience.
Custom themes

Allow members to choose between light and dark mode themes.

Attachments

Search and re-use previously uploaded images based on a per-member basis.

Social media

Encourage members to express their individuality across the net by including their social media profiles.

Messages

Each member receives their unique inbox with custom sorting inboxes.

Search

Members have an array of custom search functions to find what they're looking for.

Go-to comments

Once clicking a previpusly-read topic with new comments, members see the most-recent unread reply.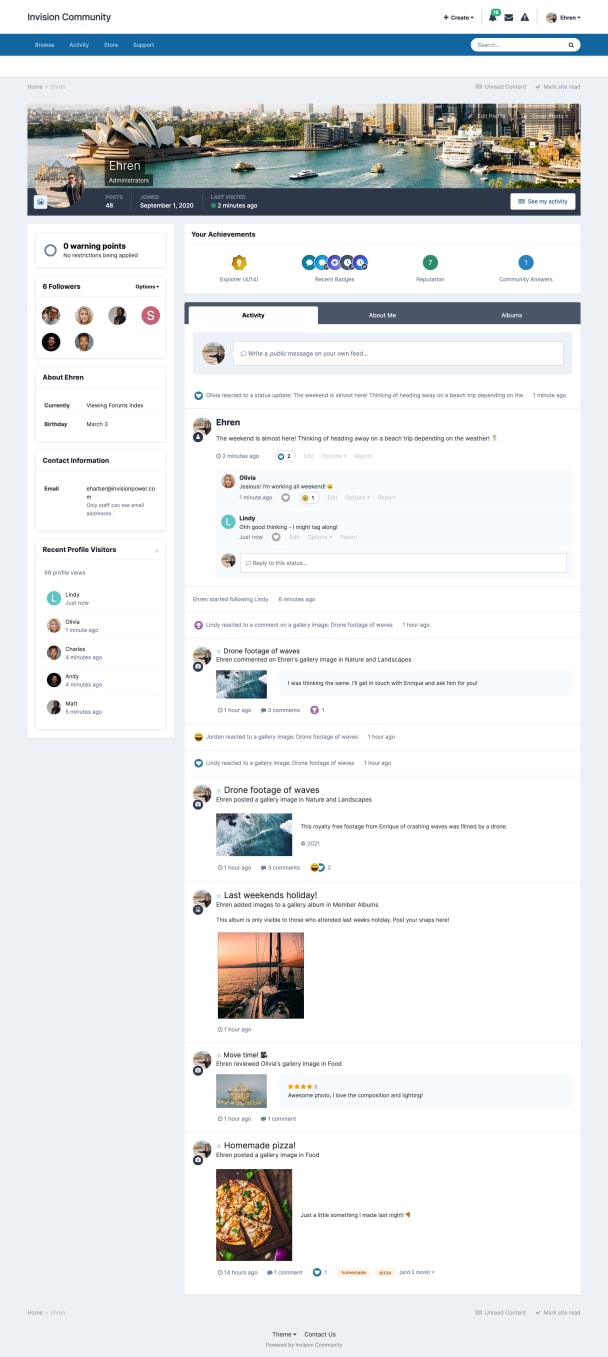 Let's get personal.
Create individualized experiences for your members.
30-day free trial

No commitments