As we make our final commits, merge in the last of our branches and wait for Charles to move more tasks to the development list, we pause to reflect on our year together as a company.
Pour some egg nog, grab some snacks and lets take a look at our journey this year.
Our year in numbers
In 2017 we made 72 Invision Community releases, 6584 code commits, read 157,203 customer replies and made an average of 177 staff replies to tickets per day.
Our year in dates
We were certainly busy this year. We launched Invision Community 4.2, started work on Invision Community 4.3, started two new blog series and a newsletter. Lets take a look at the key dates.
March 10th
We started talking about our upcoming release, Invision Community 4.2 which saw us drop "Invision Power Services" in favour of the sleeker and less awkward "Invision Community".
March 28 - 30th
During our series of blogs on 4.2, we launch a triple whammy of blog entries outlining reactions, clubs and social media promotions. Three new tent-pole features that drove 4.2 to be our most successful release.
July 19th
We release Invision Community 4.2 to deafening applause (most of it was our own, but it still counts). We give the development team a 15 minute break and then drop the 4.3 task list internally.
September 15th
We start a new blog series "Team Talk". The idea is to show that we're not a bunch of code writing robots, but we're real people with personalities, hopes and dreams. So far, it's proved that we're mostly a bunch of code writing robots without personalities. The irony.
October 18th
Not content to just talk about silly things in Team Talk, we launched our new long form blog series "Community Management". Here we give our many years of community building insight to help you become successful in running your communities. We've tackled a number of subjects from SEO to security so far with many more planned for 2018.
October 30th
Our development team have been busy working on Invision Community 4.3 and we announce it to the world. And being the huge tease we are, we've said nothing since. Rest assured, we've got a lot done and its shaping up to be another great release. We'll be talking about it in more detail next year.
It's all about you
Of course, we couldn't finish without saying a massive THANK YOU to all our customers. We are so lucky to do something we love for a living and that is only possible because you choose to use us to build your community.
We are committed to keep moving forward to ensure that we serve you in the best way possible. We'll keep innovating to give you the tools you need to succeed and we'll keep posting blogs packed full of tips and advice.
Here's to 2018 and all the adventures it brings.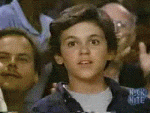 Edited by Matt